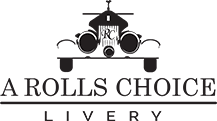 Rolls Royce Rental Testimonials
What our valued customers have to say about us.
Alex P
5 Stars review

Positive: Professionalism, Quality, Responsiveness, Value
Paulo & AROLLSCHOICE were great from start to finish. After having another company cancel our rental at the last minute, Paulo and his team were quick to step in and make our day special! Paulo communicated quickly and efficiently. He also went above and beyond and always made sure my dress was tucked in before closing the door. Paulo made sure to follow all COVID precautions. We were so happy with his service! It was an absolute blast driving around in the Bentley on our wedding day! It was a day we will never forget! Thank you Paulo!
(Review made on www.google.com arollschoice reviews)
---
We rented a silver 1949 Rolls Royce from A Rolls Choice Livery for three hours on our wedding day on September 12.
Before booking, we traveled to Aurora to see the car in person. It is beautiful! It can only seat four people in the back, but we only had two other people in our wedding party, so this worked perfectly for us. Plus, there is space for the photographer in the front next to the driver. Also, because our wedding was on a Friday, the rate was slightly reduced.
The day-of the wedding, the driver arrived on time and was dressed in a charming outfit! He first drove my maid of honour and I to the location for our "first-look" photos. The driver was professional and friendly and the ride was very smooth.
After the first-look photos, he drove all four of us to the wedding venue. The price included champagne, which he popped for us and served in champagne flutes. It was so much fun riding around in the back of the Rolls Royce -- we got lots of waves and stares from people as we drove by, as well as some photos!
Kyla

(Review made on www.weddingwire.com)
---
Peter provided great service and the vehicles were stunning. Drivers were professional and well mannered.
Shaun
(Review made on www.weddingwire.com)
---
We had the 1954 Rolls Royce for our wedding day, and it was absolutely perfect. The car was stunning, and our driver Phil was amazing. He made the drive to our big day truly memorable. The vehicle was unique, and we were able to get some amazing photographs with it. As part of our package we also had a red carpet, and champagne service, which just added to the whole experience. The driver was on time, professional, and knew how to make us feel truly special. I would highly recommend this company for anyone looking at a vintage Rolls Royce for their wedding, you will not be disappointed!
Ashley
(Review made on www.weddingwire.com)
---
We hired a vintage 1954 (or maybe 1956) white Rolls Royce for our wedding. It was such a gorgeous vehicle and the perfect touch since our venue was a restored 1940s theatre. The driver was professionally dressed, on time and courteous. The car looked AMAZING in the photos and it made us feel like movie stars pulling up to our venue, complete with a marquee and red carpet. So much better than a limo and more intimate too. The prices were very reasonable for the quality of the service provided.
Private User
(Review made on www.weddingwire.com)
---
They did awesome. very clean and very nice driver.
Christina G
(Review made on www.theknot.com)
---
We didn't want to get a big limo for our wedding, but wanted the groom to arrive in style! I came across the website for A Rolls Choice, and was very pleased with their rates (our wedding was off-season, so we got a fantastic rate for one of their classic cars!). They were great at communication, and were so accommodating to the timeline on the day of our wedding. The driver was a gentleman, and truly a joy! He held doors open, gave us a detailed history about the car, and helped the photographer arrange photos with the car. He was just amazing! This is a great option if you're looking for something other than a stretch limo for your wedding. Great service!
Amy B
(Review made on www.theknot.com)