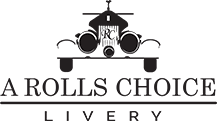 Call Us Today (416) 434-5700
1957 Silver Cloud Rolls Royce in White

This rare saloon style Rolls Royce was recently added to our fleet of cars in the summer of 2014.

This hand-built classic Rolls Royce is the perfect addition to your wedding. The 1957 Silver Cloud Rolls Royce is luxurious and comfortable.

Unlike like the other Rolls Royce rentals we have in our fleet, this vehicle is left hand drive. The Silver Cloud Rolls Royce carries 4 passengers plus the driver. There is seating for three in the back and one in the front.

The rear seating area has pull-down picnic trays to allow for champagne toasts but can be folded up to allow for more space for passengers.

The Silver Cloud Rolls Royce is the most recognized Rolls Royce ever produced but that does not make it the most common. We guarantee you'll be turning heads when you pull up in this classic rental, especially with our fully uniformed chauffeur!

Don't wait to feel like royalty. Contact us today to make this elegant vehicle a part of your wedding or special occasion!